| | | |
| --- | --- | --- |
| Home > RFSoC Central > Quartz Family of Xilinx Zynq UltraScale+ RFSoC FPGA Products Overview | | |
Quartz Family of Xilinx Zynq UltraScale+ RFSoC FPGAs Overview
Quartz FPGA Products
Quartz News

The Quartz Series




The Pentek Quartz™ family is based on the Xilinx Zynq Ultascale+ RFSoC FPGA. Quartz brings the performance and high density integration of the RFSoC to a wide range of different application spaces with a uniquely flexible design path. Quartz is available in standard form factors like 3U VPX, or with the QuartzXM Carrier Design Kit, it can be deployed on application specific custom carriers.

Designed to work with Pentek's Navigator™ Design Suite tools, the combination of Quartz and Navigator offers users a streamlined path to IP development and deployment.


Quartz RFSoC
1-Page Overview
| | |
| --- | --- |
| | |

Strategies for Deploying
Xilinx's RFSoC

Xilinx's new RFSoC brings a powerful and unique solution for addressing some of the most demanding requirements of high bandwidth and high channel count system.

This paper provides a look at how RFSoC compares to the current trends in A/D and D/A converters and the strategies for getting the most performance out of this new family of FPGAs.
Quartz Architecture
The Xilinx Zynq UltraScale+ RFSoC Processor integrates eight RF-class A/D and D/A converters into the Zynq FPGA fabric and quad ARM Cortex-A53 and dual ARM Cortex-R5 processors, creating a multichannel data conversion and processing solution on a single chip. Complementing the RFSoC's on-chip resources, the Quartz board architecture adds:
18 GBytes of DDR4 SDRAM
Sophisticated clocking for single board and multi-board synchronization
High-signal integrity connectors for RF inputs and outputs
x8 PCIe Gen 3 link
An 8 lane, 28 Gb/sec optical interface supporting a built-in dual 100 GigE interface or customer installed protocols
12 LVDS general purpose I/O pairs for specialized interfaces
QuartzXM™ eXpress Module design for flexible development and deployment
Factory-installed application IP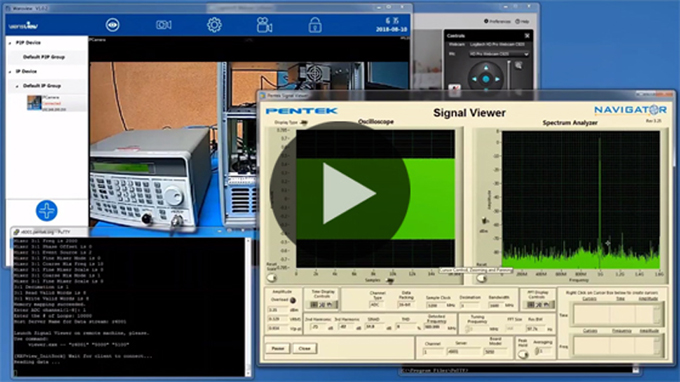 Live Signal Acquisition: Quartz Model 5950 and Model 6001 RFSoC boards
Factory Installed IP Advances Development
The Quartz board family is pre-loaded with a suite of Pentek IP modules to provide data capture and processing solutions for many common applications. Modules include DMA engines, DDR4 memory controller, test signal and metadata generators, data packing and flow control.
The Quartz board family can be used out-of-the-box with the built-in functions requiring no FPGA development. The board comes pre-installed with IP for DFRM, triggered waveform and radar chirp generator, triggered radar range gate engine, wideband real-time transient capture, flexible multi-mode data acquisition and extended decimation.
Expandable I/O
The Quartz board family supports the VITA-66.4 standard providing eight 28 Gb/sec duplex optical lanes to the backplane. With two built-in 100 GigE UDP interfaces or a user-installed serial protocol, the VITA-66.4 interface enables gigabit communications independent of the PCIe interface.
Development Tools and Software Support
| | |
| --- | --- |
| | Navigator™ Design Suite takes a new approach to solving FPGA IP and control software connectivity. Most modern FPGA-processing applications require development of specialized FPGA IP to run on the hardware, and software to control the FPGA hardware from a host computer. Even when "turnkey" solutions are delivered with complete FPGA IP and software libraries, as developers add their own custom-processing IP, new software needs to be created to control the custom IP functions. |
| | Navigator™ FDK (FPGA Design Kit) provides the complete IP for a specific RFSoC data acquisition and processing board. When the design is opened in Vivado's IP Integrator, the developer can access every component of the Pentek design, replacing or modifying blocks as needed for the application. All blocks use industry standard AXI4 interfaces providing a well-defined format for custom IP to connect to the rest of the design. Each Navigator/RFSoC design includes User Blocks in the data-flow path, ideal for inserting custom processing IP. |
| | Navigator™ BSP (Board Support Package) allows software developers to work at a higher level, abstracting many of the details of the hardware through an intuitive API. The API allows developers to focus on the task of creating the application by letting the API, the hardware and IP-control libraries below it to handle many of the board-specific functions. Developers who want full access to the entire BSP library, enjoy complete C-language source code as well as full documentation. |
SPARK Development Systems
The SPARK® Development Systems were created to save engineers and system integrators the time and expense associated with building and testing a development system. Each SPARK system is delivered with the Pentek board(s) and required software installed and equipped with sufficient cooling and power to ensure optimum performance.

The SPARK systems are fully-integrated platforms for Pentek's board(s) in product families:
Xilinx's Alliance Program
| | |
| --- | --- |
| | As a Certified Member of Xilinx's Alliance Program, Pentek has passed a comprehensive 320-point review of our technical, business, quality, and support processes and have committed engineers who completed the same rigorous training used by Xilinx Field Application Engineers worldwide. Pentek continues to demonstrate years of expertise with Xilinx devices and implementation techniques and consistently delivers high-quality products and services utilizing Xilinx programmable platforms. |
---
Quartz Family of Xilinx Zynq UltraScale+ RFSoC Products


Quartz RFSoC
1-Page Overview

Pentek's Quartz™ Family of Zynq® UltraScale+™ RFSoCs integrate multi-giga-sample RF data converters and soft-decision forward error correction (SD-FEC) into an All Programmable SoC architecture. Complete with an ARM® Cortex™-A53 processing subsystem, UltraScale+ programmable logic, and the highest signal processing bandwidth in a Zynq UltraScale+ device, the new Quartz family provides a comprehensive RF signal chain for wireless, cable access, test & measurement, early warning / radar, and other high performance RF applications.
Model

Description

VPX 3U

Model 5950
8 Channel A/D & D/A Zynq UltraScale+ RFSoC Processor - 3U VPX

Module

Model 6001
8-Channel A/D & D/A Zynq UltraScale+ RFSoC Processor - QuartzXM
Pentek Product Segment Catalogs
Pentek's segment catalogs highlight products by function. These downloadable catalogs are available for Analog & Digital I/O, Clock & Synchronization Generators, Radar & Software Defined Radio (SDR) I/O, Software & Field Programmable Gate Array (FPGA) Tools and High-Speed Real-Time Recording Systems.


The SPARK® family are fully-integrated development systems for Pentek's software-defined radio (SDR) and data acquisition and I/O boards. The SPARK series was created to save engineers and system integrators the time and expense associated with building and testing a development system that ensures optimum performance of Pentek boards.
Pricing and Availability
For the latest pricing, delivery and available options, please fill out this form and your request will be delivered to the appropriate department. To learn more about our products or to discuss your specific application please email our sales department at sales@pentek.com, contact your local representative or Pentek directly:
John Eklund
Sales Director
Pentek, Inc.
One Park Way
Upper Saddle River, NJ 07458
USA
Tel: +1 (201) 818-5900
Fax: +1 (201) 818-5904
sales@pentek.com
Map + Directions