---
TECHNICAL
HANDBOOKS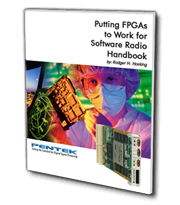 Putting FPGAs to Work for Software Radio Handbook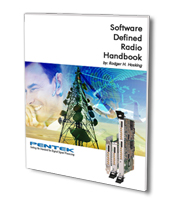 Software Defined Radio Handbook





Critical Techniques for High-Speed A/D Converters in Real-Time Systems Handbook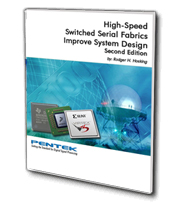 High-Speed Switched Serial Fabrics Improve System Design Handbook



---


10-minute Technical Presentations, click here
---
Pentek Introduces its First Virtex-6 Cobalt® FPGA Module for Radar and Communication Applications
Supports Xilinx Virtex-6 LXT and SXT FPGAs
Three 200 MHz 16-bit A/Ds and two 800 MHz 16-bit D/As
One digital upconverter
XMC and Gen 2.0 x8 PCI Express interfaces for high-speed data transfers
Sample clock synchronization to an external system reference
Up to 1 GB of DDR3 SDRAM or 32 MB of QDRII+ SRAM
Pentek ReadyFlow® board support and GateFlow® FPGA Design Resources
Ideal for communications, wideband radar, SIGINT, telecom and SATCOM


The Model 71620 is a multichannel high-speed data converter XMC module suitable for connection to HF or IF ports of communications, radar, telemetry and medical systems. This new module is the first member of the Pentek Cobalt® family of products slated to employ the new Xilinx Virtex-6 family. With greater than two times more resources than previous Virtex generations, including new enhancements in digital signal processing, logic, and clocking technology, the Virtex-6 family delivers the industry's most advanced FPGA technology.
Powerful Front End
The Pentek 71620 analog front end features three Texas Instruments ADS5485 200 MHz 16-bit A/Ds delivering excellent dynamic range and 350 MHz of input bandwidth, ideal for signal intelligence, radar, beamforming and undersampling applications. In addition, a dual channel TI DAC5688 800 MHz 16-bit D/A provides two wideband analog outputs. Built-in 2x, 4x and 8x interpolation filters and a digital upconverter translate real or complex baseband input signals to any IF center frequency between DC and 300 MHz, making the dual D/A extremely flexible for generating many popular communications and radar signals.
Virtex-6 FPGA
The Model 71620 features a Virtex-6 FPGA which can be selected from a variety of different FPGAs to match the specific requirements of the processing task. Supported FPGAs include: Virtex-6 LX130T, LX240T, or SX315T. The SXT parts feature up to 2016 DSP48E slices and are ideal for modulation/demodulation, encoding/decoding, encryption/decryption, or channelization of the signals between transmission and reception. For applications not requiring large DSP resources, one of the LXT FPGAs can be installed, thereby resulting in a lower cost option.
Memory Resources
The 71620 architecture supports up to four independent memory banks which can be configured with all QDRII+ SRAM, DDR3 SDRAM, or as a combination of two banks of each type. Each QDRII+ SRAM bank can be up to 8 MB deep and is an integral part of the DMA capabilities, providing FIFO memory space for creating DMA packets. For applications requiring deep memory resources, DDR3 SDRAM banks can each be up to 256 MB deep.
PCI Express Interface
The 71620 supports Gen 2.0 PCI Express as the primary control and data streaming interface. With lane widths up to x8, data can be moved on and off the board at rates up to 4 GB/sec. Such rates are invaluable for moving the full bandwidth, multichannel data required in many applications. With dual XMC connectors, the 71620 can support additional protocols, such as Aurora, or RapidIO.
For more information on the 1st member of the Cobalt® family, click here.
---
For the latest pricing, availability and delivery information,
please contact John Eklund:
---