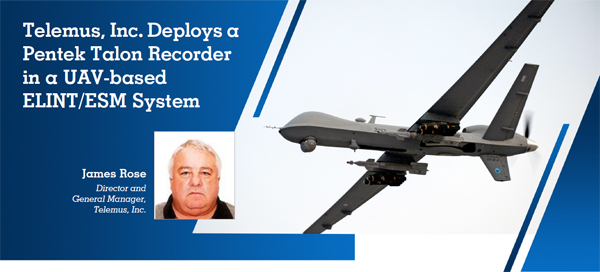 Telemus, Inc. has installed a Pentek Talon RTX Rugged IF Recorder for operational use onboard an Unmanned Air Vehicle (UAV) as part of their ALR-510 ELINT/ESM system. They chose this recorder not only for its wide instantaneous bandwidth and environmental performance, but also for its rugged, compact design.
The end user, a military organization within a NATO country, needed both Electronics Intelligence (ELINT) and Electronic Support Measures (ESM) facilities for radar surveillance in its border regions and selected the ALR-510 ELINT/ESM System from Telemus.
This system harnesses Linear Phase Interferometer Direction Finding (DF) technology and an ESM system based on an Instantaneous Frequency Measurement (IFM) receiver and omnidirectional antenna.
The ELINT system incorporates the Pentek Talon RTX series IF Recorder for digitizing and capturing wideband IF analog signals and retrieving them for analysis.
---
Product Focus
Pentek's New Talon Extreme Rugged Wideband 1/2 ATR Recorder Delivers Reduced SWaP
Features

Rugged 1/2 ATR MIL-spec chassis
Designed for harsh mechanical and thermal environments
Environmentally sealed
Internally conduction-cooled
Fully sealed for RF emissions with EMI power line filter
MIL-STD circular connectors
Compact and lightweight design - 22 lb (10kg)
Ideal for UAVs, military vehicles, aircraft pods and outdoor environments

Model 2589




---
Pentek's SFF Talon MIL-STD recorder used with ELINT software from Telemus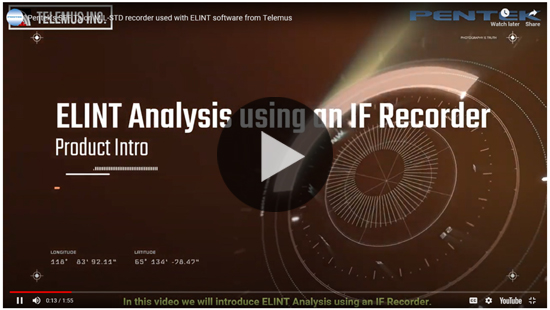 ---
Product Focus
Pentek Accelerates Real-Time Recording with New Talon Recorder for Quartz RFSoC
Features

Designed for data capture from Pentek Quartz® RFSoC products' 100 Gigabit Ethernet ports
Single QSFP28 port with MPO transceiver
Real-time record rates up to 12.5 GB/s (100 Gigabits/s)
Front-panel removable solid state storage up to 122 TB
Dual Intel Xeon® Gold processors with up to 4 TB of DDR4 SDRAM
4U 19-inch industrial grade server chassis

Model 2757




---
---
Product Focus
Pentek's New Quartz RFSoC PCIe Board is Ideal for Wireless Applications
Features

Supports Xilinx® Zynq® UltraScale+™ RFSoC FPGA
16 GB of DDR4 SDRAM
On-board GPS receiver
PCI Express (Gen. 1, 2, and 3) interface up to x8
LVDS connections to the Zynq UltraScale+ FPGA for custom I/O
Optional front panel dual optical MPO interface for gigabit serial communication
Unique QuartzXM eXpress Module enables migration to other form factors

Model 7050




---
Development Tactics and Considerations for Small Form Factor RF Signal Recorders

Signals intelligence (SIGINT) – the ability to gather intelligence by intercepting signals – has perhaps never been more essential within military operations due to today's highly sophisticated, often encrypted communications. The key to SIGINT systems are spectrum recording systems, which are often suitcase-sized, but continually trend into smaller form factors.



---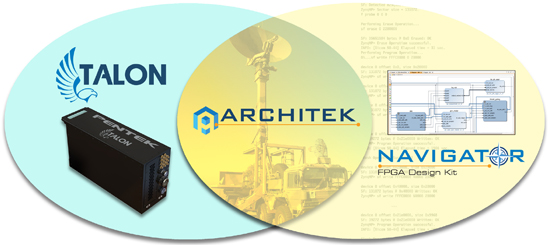 "If you design or develop systems for signal-intelligence (SIGINT), communications-intelligence (COMINT), or electronicintelligence (ELINT) applications, there have likely been times when you needed to insert some custom IP blocks into an COTS RF/IF signal recording system's processing chain. But doing so typically carries the risk of breaking either the existing IP residing on the system's FPGA or the corresponding recording software. If you need threshold detection, spectral filtering, digital down-conversion, signal classification, demodulation, or other DSP techniques, ArchiTek makes adding those sorts of functions a breeze."
– David Maliniak, Senior Editor, Microwaves & RF