How New Technologies Improve Wideband Signal and Data Recorder Performance
by Rodger Hosking, Vice President, Pentek
Virtually all military ground, sea and airborne platforms rely on wideband signal and data recorders for surveillance, interception, and monitoring of signals from sensors. Communication, radar, and telemetry systems often require recording functions for storing signals of interest or logging traffic during operational missions. Designers of these systems are always looking for critical recorder components that exploit new technologies to boost performance.
These include solid state drives, higher resolution data converters, faster serial interfaces, and advanced RAID controllers. Integration of these components to maximize overall performance requires not only careful hardware and software design, but also qualification and testing to guarantee loss-free recordings under worst-case operating conditions.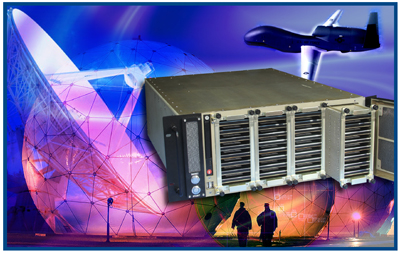 Pentek's Talon® RTX 2766
Each day, the already overwhelming glut of signals vital to government and military operations grows to challenge the neverending race for information dominance in SIGINT, ELINT and warfighting. Gaining this advantage can significantly improve the outcome of any conflict, ranging from a theater of war operation to a homeland security initiative. Often, the amount of information and the number different signal channels overwhelms the real-time analysis and decision-making capacity of the acquisition platform, regardless of whether it's a small unmanned vehicle, a fighter jet, or even a battleship. Recording this information allows it to be reviewed and forwarded to an analysis facility as required.
---
Product Focus
3.0 GS/sec Ultra Wideband RF/IF Rugged Rackmount Recorder
Features

Two 3.0 GHz 14-bit A/Ds
Two 2.8 GHz 16-bit D/As
Real-time record/playback rates up to 6.4 GB/sec
Integrated DDCs and DUCs
Capable of capturing RF signal frequencies up to 3 GHz
Captures and reproduces IF bandwidths up to 560 MHz
Captures baseband bandwidths up to 1.5 GHz
4U 19-inch rugged rackmount PC server chassis

RTR 2745




---
Product Focus
1-Ch. 6.4 GHz or 2-Ch. 3.2 GHz A/D, 2-Ch 6.4 GHz D/A Kintex UltraScale
Features

Ideal radar and software radio interface solution
Supports Xilinx Kintex UltraScale FPGAs
One-channel mode with 6.4 GHz, 12-bit A/D
Two-channel mode with 3.2 GHz, 12-bit A/Ds
Programmable DDCs (Digital Downconverters)
Two 6.4 GHz, 14-bit D/As
Programmable DUCs (Digital Upconverters)

Model 71141




---
Product Focus
4-Channel 200 MHz A/D with Multiband DDCs, Kintex UltraScale FPGA
Features

Complete radar and software radio interface solution
Supports Xilinx Kintex UltraScale FPGAs
Four 200 MHz 16-bit A/Ds
Four wideband DDCs
32 multiband DDCs (digital downconverters)
5 GB of DDR4 SDRAM
Sample clock synchronization to an external system reference
LVPECL clock/sync bus for multimodule synchronization
PCI Express (Gen. 1, 2 & 3) interface up to x8

Model 71862




---
Pentek has a new look! We've updated our website to better serve you. Streamlined product menus and a variety of search methods make it easier for you to find the best products to suit your application needs.
1. Navigation Made Easy
Comprehensive Pull Down Menus
New pull-down menus group products by function, form factor, I/O connectivity, and ruggedization levels. So Pentek's website now offers some new ways to find what you are looking for.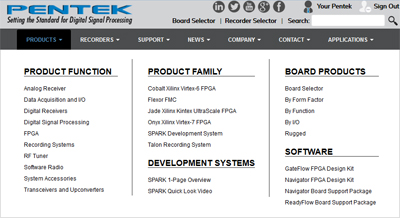 Product Selectors Narrow Search Results
If you have more specific parameters, the Product Selectors will narrow down your search results. Selectors are available for data acquisition and software radio products, baseboard and FPGA products, along with both digital and analog recorders.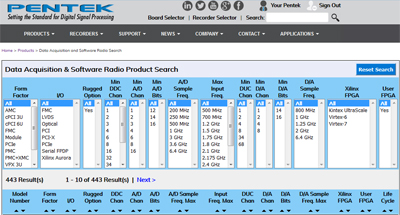 2. Applications at Your Fingertips
New Search Methods
Updated application areas highlight products, development systems, and customer applications. Choose the application area that best suits you to get to the detailed landing page.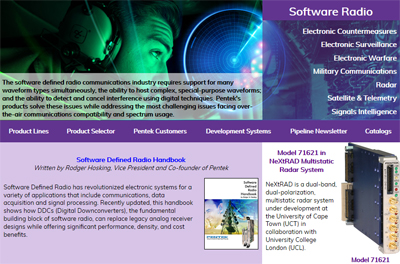 3. Access to the support, programs, and documentation you need
All the support tools, documentation, and program information including lifecycle management, bonded inventory, and free application support are accessible from one area.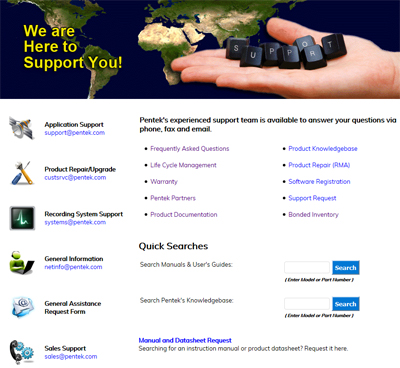 4. Keep Up-to-Date on the Latest Product Technology
Sign up for automated new product and technology notifications via the new sign-up menu on the NEWS menu. Choose from a number of categories that are customized to your interests including recording systems, FPGAs, FMCs, and more!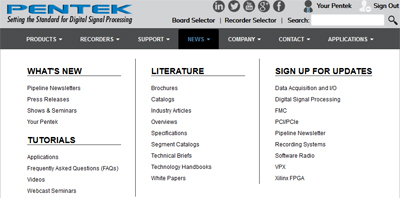 New Product Notifications are Available via YourPentek
One you register on the website, you have the option to continue to set up a YourPentek account. You can select specific models or technology categories to receive updates to datasheets, manuals and other important technical information.