4-Channel 200 MHz, 16-bit A/D with Virtex-7 FPGA - XMC
Features

Supports Xilinx Virtex-7 VXT FPGAs
Four 200 MHz 16-bit A/Ds
4 GB of DDR3 SDRAM
Sample clock synchronization to an external system reference
LVPECL clock/sync bus for multimodule synchronization
PCI Express (Gen. 1, 2 and 3) interface, up to x8
Advanced reconfigurability features
Optional user-configurable serial gigabit interface
Optional LVDS connections to the Virtex-7 FPGA for custom I/O
Model 71760 General Information
The Model 71760 is the first member of the Onyx® family of high performance XMC modules based on the Xilinx Virtex-7 FPGA. A multichannel, high-speed data converter, it is suitable for connection to HF or IF ports of a communications or radar system. Its built-in data capture features offer an ideal turnkey solution as well as a platform for developing and deploying custom FPGA processing IP.
The Onyx Architecture
Based on the proven design of the Pentek Cobalt® family, Onyx raises the processing performance with the new flagship family of Virtex-7 FPGAs from Xilinx. As the central feature of the board architecture, the FPGA has access to all data and control paths, enabling factory-installed functions including data multiplexing, channel selection, data packing, gating, triggering and memory control. The Onyx Architecture organizes the FPGA as a container for data processing applications where each function exists as an intellectual property (IP) module.
Each member of the Onyx family is delivered with factory-installed applications ideally matched to the board's analog interfaces. The 71760 factory-installed functions include four A/D acquisition IP modules for simplifying data capture and data transfer.
IP modules for DDR3 SDRAM memories, a controller for all data clocking and synchronization functions, a test signal generator, and a PCIe interface complete the factory-installed functions and enable the 71760 to operate as a complete turnkey solution without the need to develop any FPGA IP.
A/D Converter
The front end accepts four full-scale analog HF or IF inputs on front panel SSMC connectors at +8 dBm into 50 ohms with transformer coupling into four Texas Instruments ADS5485 200 MHz, 16-bit A/Ds.
The digital outputs are delivered into the Virtex-7 FPGA for signal processing, data capture or for routing to other module resources.
Memory Resources
The Model 71760 architecture supports four independent DDR3 SDRAM memory banks. Each bank is 1 GB deep and is an integral part of the module's DMA capabilities, providing FIFO memory space for creating DMA packets. Built-in memory functions include multichannel A/D data capture, tagging and streaming.
XMC Interface
The Model 71760 includes an industrystandard interface fully compliant with PCI Express Gen. 1, 2 and 3 bus specifications. Supporting PCIe links up to x8, the interface includes multiple DMA controllers for efficient transfers to and from the module.
For more information and a price quotation on the Model 71760, click here.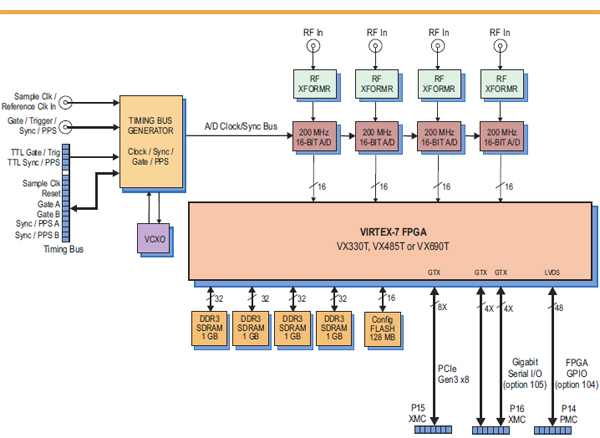 ---