4-Channel RF/IF 200 MS/sec Rugged Portable Recorder
Features

Portable system measuring 16.9" W x 9.5" D x 13.4" H
Lightweight: approximately 30 pounds
Shock- and vibration-resistant SSDs (Solid State Drives) perform well in vehicles, ships and aircraft
Recording & playback of IF signals up to 700 MHz
Signal bandwidths to 80 MHz
200 MHz 16-bit A/Ds
800 MHz 16-bit D/As
SFDR > 80 dBFS
Real-time sustained recording rates up to 1600 MB/sec
Up to of 4 TB storage with front-panel removable SSD drives
NTFS file format
SystemFlow® GUI with Signal Viewer analysis tool
Optional GPS time and position stamping
Complete high-performance Windows® workstation
Model 2726 General Information
The Talon® RTS 2726 is a turnkey, multiband recording and playback system that allows the user to record and reproduce high-bandwidth signals with a lightweight, portable and rugged package. The RTR 2726 provides sustained recording rates of up to 1600 MB/sec in a four-channel system and is ideal for the user who requires both portability and solid performance in a compact recording system.
The RTR 2726 is supplied in a small footprint portable package measuring only 16.9" W x 9.5" D x 13.4" H and weighing just 30 pounds. With measurements similar to a small briefcase, this portable workstation includes an Intel® Core i7 processor a high-resolution 17" LCD monitor, and a high-performance SATA RAID controller.
At the heart of the RTR 2726 are Pentek Cobalt® Series Virtex-6 software radio boards featuring A/D and D/A converters, DDCs, DUCs, and complementary installed FPGA IP cores. This architecture allows the system engineer to take full advantage of the latest technology in a turnkey system.
Optional GPS time and position stamping allows the user to record this critical signal information.
SystemFlow Software
Included in this system is the SystemFlow® recording software. SystemFlow features a Windows-based GUI that provides a simple means to configure and control the system.
Custom configurations can be stored as profiles and later loaded when needed, allowing the user to select preconfigured settings with a single click.
SystemFlow also includes signal viewing and analysis tools, that allow the user to monitor the signal prior to, during, and after a recording session. These tools include a virtual oscilloscope and a virtual spectrum analyzer.
Built on a Windows® workstation, the RTR 2726 allows the user to install post processing and analysis tools to operate on the recorded data. The RTR 2726 records data to the native NTFS file system, providing immediate access to the recorded data.
Data can be off-loaded through two 1 Gb Ethernet ports, eight USB 2.0 ports or two eSATA ports. Additionally, data can be copied to optical disk, using the 8X double layer DVD±R/RW drive.
Rugged Architecture
Because SSDs operate reliably under conditions of vibration and shock, the RTR 2726 performs well in ground, shipborne and airborne environments. The eight front-panel removable SSD's provide a storage capacity of up to 4 TB. The drives can be easily removed or exchanged during or after a mission to retrieve recorded data.
For more information and a price quotation on the Model 2726, click here.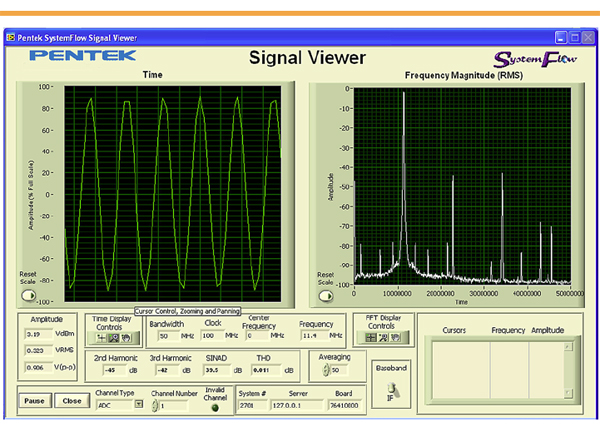 ---