Pentek SystemFlow Software for High-Speed Real-Time Recording Systems
Latest Release Offers Many New Features
Features
Ready-to-use record/playback software
Development tool suite with APIs and source code
New Signal Viewer offers enhanced analysis functions
New, easy-to-use File Manager for critical data management
RAID storage up to 6 terabytes and higher
Now supports both Windows and Linux platforms
The SystemFlow® recording software provides a rich set of features for controlling the data acquisition and recording functions and ensures a consistent look and feel for developers across all Pentek high-speed real-time recording systems.
Pentek recording systems are flexible and deployable systems for acquiring, processing and analyzing signals. They are ideal for high-performance radar, wireless, military communications, SIGINT, telecom and satcom applications.
What sets the Pentek recording systems apart from the rest is the wellengineered, fully-integrated SystemFlow software suite, optimized for each system. This wide range of tools, from high-level APIs to low-level source code, provides the extra flexibility engineers need to tackle even the toughest applications.
New to the SystemFlow software are a File Manager that simplifies file and data management and a Signal Viewer with enhanced display and analysis capabilities. In addition, the high-speed real-time recording systems now support both RAID and JBOD Fibre Channel disk arrays, thereby boosting recording capacity to 6 terabytes and higher. The new graphical user interface is written in Visual Basic for Windows PCs and Java for Linux. Complete APIs and source code, for both the host and the target, boost productivity for custom development of data acquisition, recording and display functions.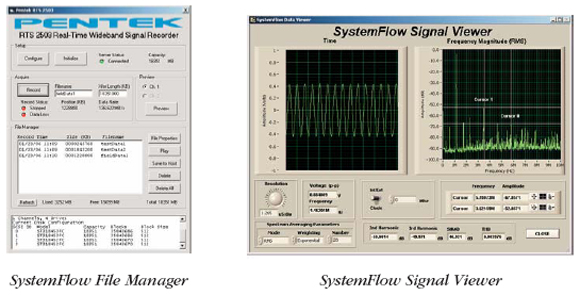 File Manager Simplifies Data Management
The new File Manager saves each recording session as an individual file. Critical parameters including time stamping, channel identifiers, file length, data format, and user fields are automatically stored in each file header.
Enhanced Signal Viewing, Analysis and Storage
The user interface presents a virtual GUI (graphical user interface) control panel to simplify all system operations with push button controls and hardware parameter entry windows. The enhanced Signal Viewer provides simultaneous viewing of live or recorded signals in both time and frequency domains. Also added are essential signalanalysis tools for measuring parameters such as SINAD, harmonics and THD. Spectral averaging is also available, so that the user can detect weak signals and explore points of interest.
Additional functions include channel allocation for the connected Fibre Channel RAID or JBOD disk arrays, continuous display of recording, and file transfers to the host for processing, analysis and archiving. The newly supported RAID arrays can now stream data at the same rates as JBODs, but with the additional advantages of lower cost, inherent fault tolerance, and raising storage capacities from around 0.5 to 6 terabytes or more.
Real-Time Acquisition and Host System Development
The acquisition hardware and Fibre Channel disks are controlled by an application written in eCos, a license-free real-time operating system. This application can be easily customized to configure the high-speed real-time recording system interfaces and operation to fit specific applications.
Flexible and Deployable Recording Systems
Currently, three Pentek recording systems are available: the Model 2501 a 105 MHz High-Speed Real-Time Recording System with Wideband Receiver and FPGA Processing; the Model 2503 a 215 MHz Recording System with FPGA Processing; and the Model 2504 105 MHz High-Speed Real-Time Recording and Playback System with Multiband Transceiver and FPGA Processing. Each is housed in a portable 6U VMEbus enclosure. Future systems under development will be compatible with the SystemFlow software.