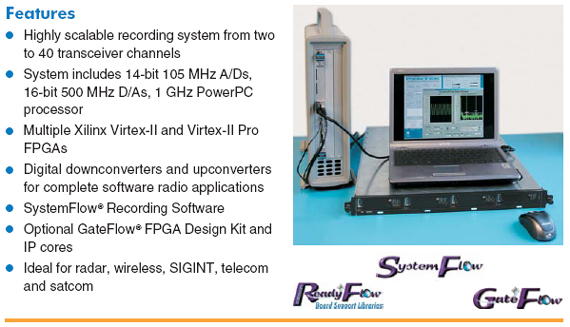 The Pentek Model 2504 is a high-speed real-time recording system that contains all the hardware and tools needed for acquiring, downconverting, processing, analyzing, recording, upconverting and playing back wideband signals. Integrating recently introduced A/D and D/A converters, digital downconverters and upconverters, FPGAs and signal processors, this system allows the design engineer to take advantage of the latest technology for signal processing.
The combination of data recording and playback capabilities in a single unit makes the Model 2504 especially valuable for developers. Instead of using simulated signals and signal analysis tools during system development of radar or communication systems, engineers can take the high-speed real-time recording system into the field to capture and generate realworld, real-time signals for direct validation of both signal-processing algorithms and system hardware.
Scalable from two to 40 transceiver channels in a single 6U VMEbus enclosure, the Model 2504 serves equally well for advanced research projects and proof-of-concept prototypes, or as a cost-effective strategy for deploying high-performance multichannel embedded systems.
Inside the Model 2504
The Model 7140 high-performance dual channel transceiver PMC/XMC module digitizes HF or IF input signals using a pair of 14-bit, 105 MHz A/D converters and generates output signals with two 16-bit, 500 MHz D/A converters. A Virtex-II Pro FPGA serves as a control and status engine with data and programming interfaces to each of the many onboard resources. These include a two-channel digital downconverter, a twochannel digital upconverter and a very versatile clocking and synchronization system.
The FPGA is supported with 512 MB DDR SDRAM for built-in buffering functions, such as data capture and delay. A 64-bit 66 MHz PCI interface includes a nine-channel DMA controller to boost PCI transfer speeds.
The 7140 transceiver is installed as a PMC peripheral on a Pentek Model 4205 I/O PowerPC processor. The processor features a 1 GHz MPC7457 PowerPC, 1 GB SDRAM and two Xilinx Virtex-II FPGAs. It acts both as an executive for managing data transfer tasks and performing signal processing and data formatting functions.
SystemFlow Recording Software
SystemFlow® recording software provides a rich set of function libraries and tools for controlling and building Pentek's high-speed real-time recording and data acquisition system. SystemFlow allows developers to configure and customize the system's interfaces and behavior. It includes code not only for the real-time data acquisition, recording and playback functionality, but also for the user-control software running on the host PC including the GUI (graphical user interface).
For more information, click here.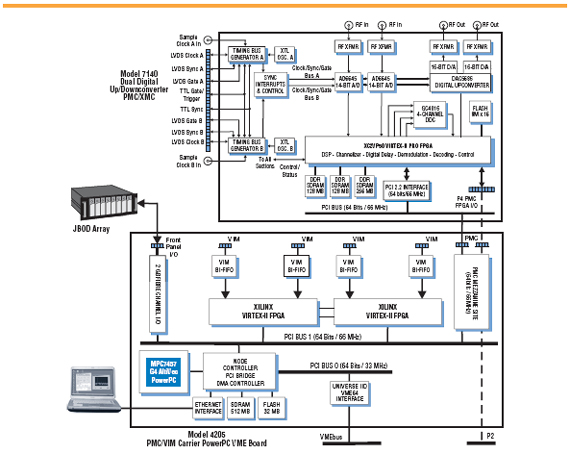 See Model 2504 Datasheet for larger block diagram.