Product Focus: Model 2502 High-Speed Real-Time Recording System



Dual-channel wideband A/D data recording
to disk array
Four D/A converters with dual upconverters for playback from disk array
Configurable signal processing via Virtex-II FPGAs and 1-GHz G4 PowerPC
SystemFlow® API and development Libraries
Optional GateFlow® FPGA Design Resources
Highly scalable platform (2 to 40 A/D channels)
Ethernet link to Linux or Windows
High-speed interfaces available:
RACE++, FPDP, Gigabit Ethernet
The Pentek Model 2502 high-speed real-time recording system adds playback capability to the popular Model 2500 family, using the same data-capture front end and adding four D/A channels with two upconverters for playback. The unit comes preconfigured as a data recording system with a graphical user interface (GUI) to make the system ready to use out-of-the-box. The Model 2502 is a fully scalable and programmable development platform that targets applications such as military radios and commercial wireless base stations.
The combination of data recording and playback capabilities in a single unit makes the Model 2502 especially valuable for developers. Instead of using simulated signals and signal analysis tools during system development, engineers can take the high-speed real-time recording system into the field to capture and generate real-world, real-time signals for direct validation of both signal-processing algorithms and system hardware.
Inside the Model 2502
Model 2502 high-speed real-time recording system accepts signals through two 14-bit A/Ds with speeds to 105 MHz and passes them through digital downconverters to Virtex-II FPGAs for signal processing and data handling. The unit can send raw or processed data to a JBOD array at speeds to 160 Mbytes/sec for recording. It can also send the data off-board through FPDP, RACE++, or Gigabit Ethernet ports.
The two playback channels offer digital upconversion and dual 500-MHz, 16-bit D/As to produce real or I/Q RF signals, drawing data from the JBOD array at up to 160 MB/sec or other I/O as desired. Multiple Virtex-II FPGAs provide signal processing, formatting and other data manipulation of the input and output channels.
The Model 2502 occupies a single 6U VME card, enabling as many as 20 units to fit into a standard card cage. The unit is highly modular, allowing for 40 input channels and 80 output channels with this configuration.
SystemFlow API and Libraries
SystemFlow software has a modular design that includes API libraries for the target board as well as user-control libraries for the host PC. Windows DLL calls are written in Visual C++ and a GUI is provided as a front-end PC host system. The PC host front end communicates over Ethernet with the royalty-free eCos real-time operating system running on the system's G4 PowerPC board, which executes real-time application code.
API libraries for both host and target include full source code, allowing developers to easily modify both the platform front end and target code to meet their needs. The software package also includes a data viewer, written in LabView, that shows display plots of collected data in either time or frequency domain.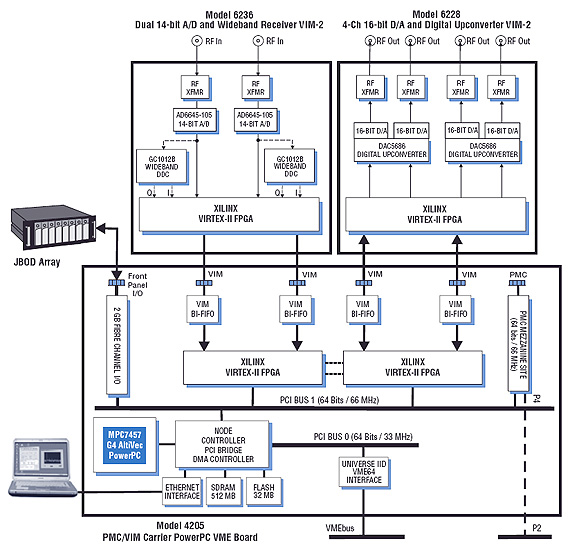 For more information, click here.