Product Focus: Model 7140-430



Model 7140 is Now Available with a 256-Ch. Downconverter installed Core

This installed IP Core is also available for the Model 7240 (6U cPCI), the Model 7340 (3U cPCI) and the Model 7640 (PCI) Transceivers.
Click here for more.




256 individually tunable digital receiver channels
Extremely low cost per ch.
Dual 105 MHz 14-bit
A/D converters
XMC I/O provides high-speed data streaming
installed IP core eliminates FPGA development tasks
74 dB stopband attenuation and 0.4 dB passband ripple
The Pentek IP Core 430
The Pentek IP Core 430 narrowband digital downconverter (DDC) FPGA is now offered as a installed option in the Model 7140 software radio transceiver PMC/XMC module.
Implemented in a Xilinx FPGA, it provides 256 individually tunable receiver channels in a full-function PMC/XMC transceiver module. This combination is ideal for developers of multichannel communications systems, such as military radios and commercial wireless base stations that require a high channel density within tight size, weight, cost and power constraints.
By incorporating this core within the Model 7140 PMC/XMC module, Pentek not only slashes the cost per channel, but also opens up new applications for multichannel receivers where space is restricted, such as unmanned aerial vehicles and portable or concealed signal intelligence systems. Since Pentek installs this core at the factory, developers of embedded systems can now reap the benefits of leading edge FPGA performance with no FPGA development effort.
The 7140-430 PMC/XMC Module
The front end accepts two analog HF inputs on front panel MMCX connectors and transformer-couples them into 14-bit A/D converters with a sampling rate of up to 105 MHz. The digitized output signals pass to a Virtex-II Pro XC2VP50 FPGA that implements the downconverter core sourced from either channel. A channelizer stage generates 1024 fixed, overlapping frequency channels with alias-free performance better than 75 dB. A 256-output switch matrix follows the channelizer and provides the coarse tuning function.
Following the coarse tuning, each channel uses its own programmable NCO to provide fine tuning and a mixer to translate the signal of interest to baseband.
A user-programmable decimating FIR low-pass filter defines output channel bandwidth with decimation settings ranging from 1024 to 9984 in steps of 256. For an A/D sampling rate of 100 MHz, the output bandwidth ranges from about 8 kHz to 80 kHz, ideally suited for most voice or data systems. Baseband outputs pass through a programmable gain stage before being rounded to their final 16-bit result. Each channel has an independently programmable 16-bit gain control.
Full Transceiver Functionality
In addition to the receiver section, the 7140 module offers a transmit section. A digital upconverter translates real or complex baseband signals to any IF center frequency from DC to 160 MHz. Two 16-bit D/A converters then produce real and quadrature (I and Q) IF analog output signals that are transformer-coupled to front panel output connectors.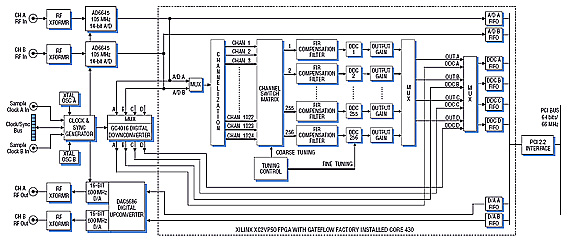 See Model 7140-430 Datasheet for larger block diagram.