With YourPentek, you can be notified when new documentation and other updated product information is available for the Model 7642.
Please login or register to manage your profile.
Model 7642 4-Channel A/D, 1-Channel D/A with Virtex-4 FPGAs - PCI
Request a Quote

Block Diagram

Datasheet

Manuals

Software

Literature

Life Cycle Management

Ordering & Warranty



Complete software radio interface solution
Four 125 MHz 14-bit A/Ds
One digital upconverter
One 500 MHz 16-bit D/A
768 MB of DDR2 SDRAM
Xilinx Virtex-4 FPGAs
Up to 2.0 seconds of delay or data capture at 125 MHz
Dual timing buses for independent input and output clock rates
LVDS clock/sync bus for multi-board synchronization
32 pairs of LVDS connections to the Virtex-4 FPGA for custom I/O through a 64-pin DIN connector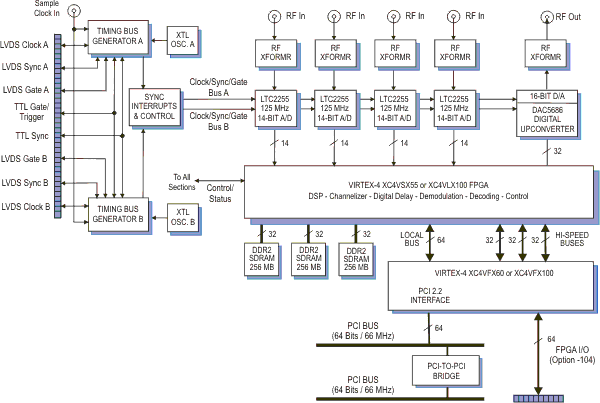 Pricing and Availability
For the latest pricing, delivery and available options, please fill out this form and your request will be delivered to the appropriate department. To learn more about our products or to discuss your specific application please email our sales department at sales@pentek.com, contact your local representative or Pentek directly:
Mario Schiavone
Sales Director
Pentek, Inc.
One Park Way
Upper Saddle River, NJ 07458
USA
Tel: +1 (201) 818-5900
Fax: +1 (201) 818-5904
sales@pentek.com
Map + Directions
Hardware and Software Manuals - ( top )
Please note that some hardware and software manuals are used for more than one Pentek product. Although the model numbers given in the description of each manual below may vary, these manuals are all used for the product described on this web page.
Part No.

Type

Description

Revision/Date

800.71420
Operating Manual
Model 7142 Four Channel A/D with DAC PMC/XMC Module
B10 (8/1/2014)
800.71421
Addendum
7x42 Series Xilinx Programming Instructions
A (11/18/2008)
800.76420
Installation Guide
Model 7642 Multichannel Transceiver PCI Board
B.1 (7/2/2009)
801.71420
Installation Guide
Model 4999 Option 142, ReadyFlow Board Support Libraries for Model 7142
1.1 (3/18/2008)
801.71421
Programmer's Reference
Model 4999 Option 142, ReadyFlow Board Support Libraries for Model 7142
1.1 (3/18/2008)
803.71400
User's Guide
Model 4996 Option 140/141/142, VxWorks Driver for Model 7140/7141/7142
2.3A (1/18/2008)
805.71400
User's Guide
Model 4995 Option 140/141/142, Windows Driver for Model 7140/7141/7142
2.3B (1/18/2008)
806.71400
User's Guide
Model 4994 Option 140/141/142, Linux Driver for Model 7140/7141/7142
2.3A (1/18/2008)
809.7x420
Supplemental Manual
Vendor Data Sheets for Model 7x42 Series Operating Manuals
A (11/18/2008)
813.71420
User's Guide
Model 4996A Option 142 VxWorks ReadyFlow BSP for Model 7142
1.1 (3/6/2009)
815.71420
User's Guide
Model 4995A Option 142 Windows ReadyFlow BSP for Model 7142
1.0 (6/4/2012)
816.71420
User's Guide
Model 4994A Option 142 Linux ReadyFlow BSP for Model 7142
1.1A (6/8/2009)
Contact Pentek
For Manual
Model 4953 GateFlow FPGA Design Kit for Pentek Modules for Model 7642
Software Products - ( top )
| | | |
| --- | --- | --- |
| Model | Option | Description |
| 4953 | 142 | GateFlow FPGA Design Kit for Pentek Modules |
Literature - ( top )
Brochure
Catalog
FAQ
Handbook
Tutorial
Industry Article
Webcast Seminar