With YourPentek, you can be notified when new documentation and other updated product information is available for the Model 6210.
Please login or register to manage your profile.
Model 6210 Narrowband Digital Receiver and A/D Converter - VIM
Block Diagram

Datasheet

Manuals

Literature

Life Cycle Management

Ordering & Warranty

Catalogs



VIM-2 module for the Models 4290 and 4291 Quad 'C6x DSP's
Two identical channels include amplifier, filter, A/D converter, digital receiver and demodulator
Up to 65 MHz A/D sampling with 12-bit accuracy
Programmable-gain input amplifiers
Anti-aliasing low pass filters
Receiver decimation range from 4 to 16,384
Cartesian-to-polar converter for AFC and AM, FM, FSK and PSK demodulation
255-tap programmable FIR filter
Synchronization across channels and other 6210s
Expands to four channels per slot with two 6210s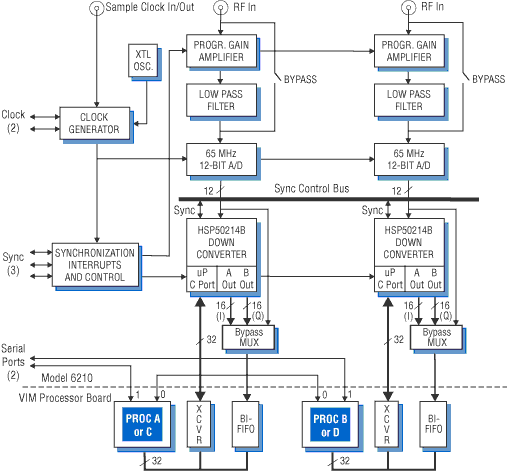 Hardware and Software Manuals - ( top )
Please note that some hardware and software manuals are used for more than one Pentek product. Although the model numbers given in the description of each manual below may vary, these manuals are all used for the product described on this web page.
| | | | |
| --- | --- | --- | --- |
| Part No. | Type | Description | Revision/Date |
| 800.00002 | Miscellaneous | VIM Specification | E (6/10/2004) |
| 800.62100 | Operating Manual | Dual A/D Converter and Dig Rec VIM Module for VIM Motherboards | c (4/5/2001) |
| 801.62100 | User's Guide | Model 4999 ReadyFlow Board Support Libraries for Model 6210 | 2.0 (12/5/2000) |