With YourPentek, you can be notified when new documentation and other updated product information is available for the Model 4291.
Please login or register to manage your profile.
Model 4291 Configurable Quad TMS320C6701 Processor
This product is no longer available for new designs.
Block Diagram

Datasheet

Manuals

Literature

Life Cycle Management

Ordering & Warranty

Catalogs



Four TMS320C6701 floating-point DSP's operating at 167 MHz
4 GFLOPS performance
Memory resources for each processor:

16 MB SDRAM
512 kB zero-wait sync burst SRAM
256 kB dual port SRAM

I/O resources for each processor:

Two serial full-duplex ports for VIM I/O
Read/write memory access to VIM mezzanine
2 x 1k x 32 bidirectional FIFO for VIM mezzanine board I/O
2 x 1k x 32 bidirectional FIFO for interprocessor communication

Global bus resources accessible by all processors and VMEbus:

Four 256 kB dual port SRAM's
8 kB of fast, non-volatile SRAM
8 MB flash memory for 'C6701 boot code and user applications
2 MB global SRAM for sharing common data
Memory-mapped slave expansion for other memory and I/O

Host port for all four processors
Data transfer rates up to 400 MB/sec
VIM interface adapters for application-specific front panel I/O
Optional P2 interfaces: RACEway, VSB, custom I/O
VME64 master/slave interface
VME memory-mapped J-TAG controller
Development tools for UNIX and Windows 95/98/NT workstations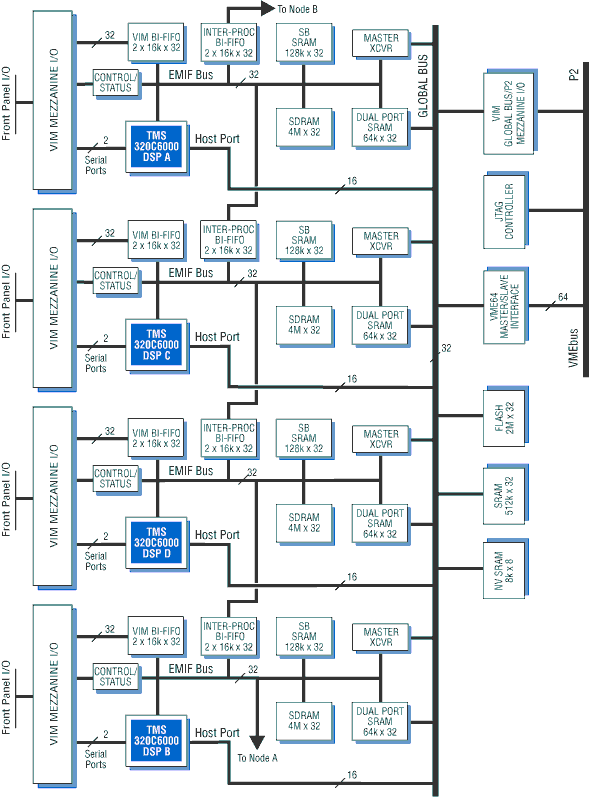 Hardware and Software Manuals - ( top )
Please note that some hardware and software manuals are used for more than one Pentek product. Although the model numbers given in the description of each manual below may vary, these manuals are all used for the product described on this web page.
| | | | |
| --- | --- | --- | --- |
| Part No. | Type | Description | Revision/Date |
| 800.00002 | Miscellaneous | VIM Specification | E (6/10/2004) |
| 800.42900 | Operating Manual | Operating Manual for Model 4290 and 4291 | D (10/29/2002) |
| 800.42908 | Release Note | Upgrading Model 4290's Boot Firmware | B (12/8/2000) |
| 800.42909 | Release Note | Inital Setup | Preliminary (3/1/1999) |
| 801.42900 | User's Guide | Model 4999 ReadyFlow Board Support Libraries for Models 4290/4291 | 2.3A (7/6/2004) |
| 801.62000 | User's Guide | Model 4999 ReadyFlow Board Support Libraries for Pentek VIM Modules | 2.1 (11/28/2000) |
| 801.62670 | User's Guide | Model 4999 ReadyFlow Board Support Libraries for TMS320c62x/c67x Processors | 1.1 (11/28/2000) |